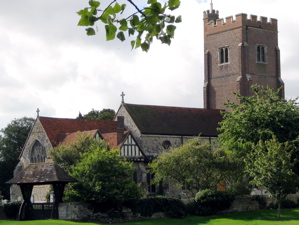 On Wednesday 12th September, I reached the magic age of 65, having been born in 1942 in the delightful old town of Rochford in Essex (pictured).
That was nice. I received a number of cards and presents, including a card from my daughter Gillian congratulating me on now being, as she sweetly put it, "officially old".
But of course birthdays, like all other days, pass in due course, and afterwards I just got on with being 65, as one does.
Then on the Saturday, 15th September, I spent the day at the cricket at Grace Road. It was the last day of Leicestershire's season, a one day match against Surrey.
In the evening, I was going to a social event at the John of Gaunt pub in Leicester organised by the Cornerstone church.
I was collected by our friend Bill, who took me to the pub, and left me to go to the usual room while he collected drinks.
When I got to the relevant room it was in darkness, but as I stood thruttering outside, not knowing quite what to do, the door was flung open by Anne, my wife, and a roomful of people sang "Happy Birthday to You".
Of course I was taken aback, but at first assumed that the people at the function were just being nice to me, having heard that I had recently become aged.
But then I began to realise that I knew everybody, and that most of them were people who would not normally have been a part of that particular grouping. Then of course I realised that it was a party for me. To say that I was surprised doesn't come close to the truth.
Even then, It took a little while to realise that over in the corner were my eldest daughter Theresa, with partner Daniel and children Jack and Alice, all the way from Southend, as well as my daughter Angela, with husband Nigel and children Kirsty and Sarah-Beth, all the way from Mattishall in Norfolk.
I was so surprised that I don't think I even thanked Anne for arranging such an amazing event. I certainly do so now in public. I think I can truthfully say that it was the nicest thing that has ever been done for me.
Thanks as well to the various friends who helped, in particular Margo (who had been blamed for Anne being out virtually all the time over the previous few days), Bill (who acted as quizmaster during the evening), Jill, Simon and Mel.
My youngest son Robin was there, having decided not to go to the concert to which he had been looking forward that evening. That meant a lot to me.
Some others, of course, could not be there, notably my son Neil and partner Becca, who were unable to get up from Bedford, my daughter Gillian and partner Austin, who could not get out of her new job in Folkestone, and my son Kevin and partner Laura, at University at Sheffield but at the time in America.
Anne had asked me for names and addresses of some friends over the previous few weeks. She said she needed to know who to invite to my funeral, which depressed me a bit, until I knew the real reason.
Some of the people had very sneakily kept the truth from me. I had been with Meg and Peter only a couple of hours previously at the cricket. David, Lee and another Peter had been on the Guided Walk around Shepshed with me on the Tuesday. And I had had dinner with Theresa and family at their house in Westcliff on the Sunday night.
It was a wonderful gesture, and a wonderful evening. Thanks to everybody who came to the share the evening with me, and especially thanks to Anne, who created the whole thing and showed me such a huge and unexpected amount of love.
Posted by colin on Sunday 7th October, 2007 at 11:07am