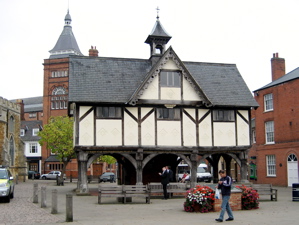 I recently led one of my very popular morning Coach Trips.
This time it was the "Welland Valley Tour", looking at places along the valley of the River Welland, one of several important rivers that flow Eastwards into The Wash.
After leaving St. Margarets Bus Station in Leicester, we went through the outstanding market town of Market Harborough and then close to Naseby Battlefield and through the charming village of Rockingham, overlooked by its famous castle.
Passengers were then treated to the unusual experience of travelling beneath the spectacular Harringworth Viaduct, before bypassing Peterborough and viewing the fascinating little town of Crowland, which we will be visiting next year on the "John Clares England Tour".
We always make a stop about halfway round, at a place where not only coffee etc can be bought, but interesting things can be seen. This time the stop was at the Baytree Nurseries at Weston.
On the way back, we went through some lovely towns, including Spalding, Market Deeping and Stamford, another of the places to be visited on the "John Clare's England Tour".
My Visitors' Book gleaned such comments as "entertaining trip", "guide in form".
I run several of these trips every year, the relevant times being 9.30am to about 2pm.
The next, if you feel you would like to sample one, is the annual "Free Mystery Tour".
Posted by colin on Tuesday 11th December, 2007 at 9:31am