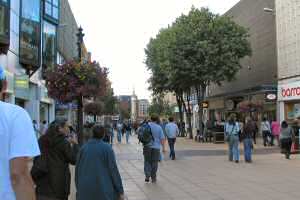 I recently gave a talk to the ladies of St. James the Greater Church in Birstall, at the St. James Centre in the village.
The talk was one of my most popular, "Street Names of Leicester".
Leicester is one of the oldest cities in the country, dating back two thousand years, and has a fine collection of eccentric street names.
During the talk, I picked out some of the most unusual, and gave explanations of their meanings.
Among the streets discussed were Butt Close Lane; Cheapside; Church Gate; Every Street; Gallowtree Gate; Greyfriars; Horsefair Street; and Pocklingtons Walk.
Posted by colin on Friday 18th April, 2014 at 3:16pm