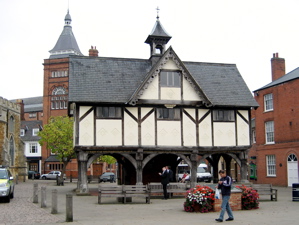 One of my more recent Coach Trips, from St. Margarets Bus Station in Leicester, was "Spires and Squires Tour".
This was one of the morning trips, particularly enjoyed by people who would rather not be out all day.
The tour was around the countryside and small towns and villages on the borderland between Leicestershire and Northamptonshire, and of course as always I provided a commentary along the way.
The route went through the delightful market town of Market Harborough, and also across the historic battlefield of Naseby, where Charles I suffered a disastrous defeat at the hands of Cromwell and the Parliamentarian army.
There is always a stop where tea, coffee, cakes etc can be bought. This is always at a place of interest in its own right, and this time it was at the splendid 18th century Kelmarsh Hall.
I would normally quote some comments from my Visitors` Book. However, I have started a new one since this trip. The old one has been a casualty of the Great Pre-Christmas Tidy Up. I have tidied up so efficiently that I can`t find it!
Posted by colin on Tuesday 3rd January, 2012 at 8:44pm