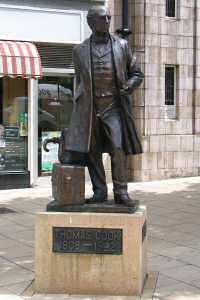 I led a special Guided Walk around Leicester recently for members of a London rugby club.
I was contacted by Joe Murphy, tour manager for Belsize Park RFC, who were coming to Leicester for a weekend of matches, but their Sunday opponents pulled out at short notice, leaving them at a loose end.
Joe wondered if I would be prepared to take them on a Guided Walk to show them some interesting aspects of the city.
So I met them at the Premier Inn near Leicester Station and gave them a tour which involved the unique New Walk and parts of the Old Town - and, by special and unanimous request, a pub.
They were particularly intrigued to go on a walk with me, as was their Chairman - his name is Dr. Colin Crosby.
Posted by colin on Sunday 27th December, 2009 at 6:14pm