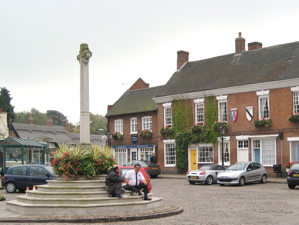 I led one of my popular morning Coach Trips recently.
This time it was "Richard III Tour", which like the Guided Walk has been the subject of a great deal of interest recently.
Richard, a tragic and much maligned young king, spent his last night in a bed in Leicester in 1485, was killed in battle outside Market Bosworth and was brought back to Leicester for burial.
His remains were found at the Greyfriars in Leicester last year, after more than five centuries.
On this tour, I showed the area of Leicestershire where he spent the last few days of his life.
As always, there was a coffee stop, and this time it was at Bosworth Battlefield.
I am very happy to run this trip as a private booking for your group.
Posted by colin on Tuesday 3rd December, 2013 at 4:24pm