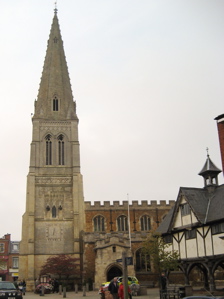 One of the towns where I get most requests for a Guided Walk is the historic Leicestershire market town of Market Harborough.
I led a walk around this delightful town recently for the retired members branch of The NASUWT, one of the teaching unions.
They were holding their Annual General Meeting at the Angel Hotel in the High Street, and their secretary felt that a Guided Walk after the meeting and a meal would round off the proceedings nicely.
It was a great pleasure to take these education professionals, who came mostly from Leicestershire but also from Derbyshire and Northamptonshire, to see historical aspects of such an interesting town.
If you would like a similar walk for your own group, do feel free to get in touch.
Posted by colin on Thursday 18th February, 2010 at 4:45pm