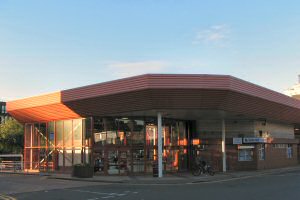 I went on another of the trips run by Woods Coaches of Leicester recently. This time it was to places in Somerset.
The trip was entitled "Lorna Doone Country", and took me to parts of the country that I was less familiar with than most.
People are often surprised when they see me on Coach Trips, knowing that I run my own programme of excursions, but the plain fact is that I always enjoy being a passenger, and being able to relax while others do the work.
After leaving St. Margarets Bus Station in the morning, we proceeded South Westwards and made a stop at Strensham Services, where I was able to stoke up on a good breakfast.
From there we continued down into Somerset, and stopped at Minehead. It was lovely to be beside the sea, seeing and hearing the gulls. I chatted to the Tourist Information Centre staff, and had a coffee and teacake at the cafe in the attractive Blenheim Gardens.
The road from Minehead was very beautiful indeed, with Exmoor on our left and the high sea cliffs on our right. We made a brief stop at County Gate, to admire the views.
Then it was on to the highly picturesque fishing village of Lynmouth, which was badly damaged in floods in the 1950s but is now a most attractive destination.
On the way back from Lynmouth, we stopped at Exford on Exmoor, and partook of an excellent cream tea.
Then it was back to Leicester, stopping at Michael Wood Services.
I thoroughly enjoyed the day.
Posted by colin on Monday 14th September, 2009 at 9:18am