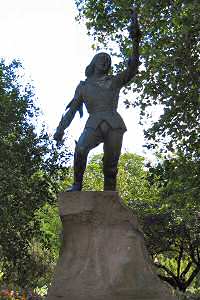 As the world now knows, the mortal remains of Richard III have been found in Leicester.
A press conference at Leicester University recently announced that the bones found at the Greyfriars site last Summer were indeed those of this tragic and much maligned young king.
People where listening live all around the world, and BBC Radio Leicester broadcast a programme from the university during the hour or so before the press conference was due to start.
They spoke to a number of interested people in the Leicester area, one of whom was me. I talked about the potential benefits for our historic city in terms of tourism and the general economy.
I was asked if it would matter if it turned out that the remains were not those of Richard. I pointed out in reply that, although it would be a shame and the benefits would be much smaller, nevertheless the eyes of the world were on the historic city of Leicester and we had the opportunity to let people know about our long and distinguished history.
Within literally seconds of putting down the phone, I had a message saying "I`ve just been listening to you on the radio .... and I`m in Australia!" and this was followed by messages from all over the world.
I do of course lead "Richard III" Guided Walks!
Posted by colin on Tuesday 9th April, 2013 at 5:02pm