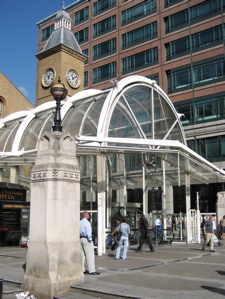 I recently held another one of my days leading Guided Walks in London.
Three times a year I have a day in the capital, leading two different Guided Walks.
This time, the first of the two was "Waterside London". Starting at St. Pauls Cathedral I led the group beside the River Thames in the City, as far as London Bridge, which we crossed. Then it was through Southwark and Bankside, passing Southwark Cathedral and Shakespeare`s Globe, before returning across the Millennium Bridge.
The second walk was "Jack the Ripper". Commencing outside Whitechapel Station, I led the group through the East End, visiting the sites of the five murders which terrorised London in 1888, and of some other murders which may have been committed by the Ripper. I also gave some thoughts on the killer`s possible identity, before finishing outside Liverpool Street Station.
Like Dr Johnson, I feel that if you are tired of London you must be tired of life.
Posted by colin on Friday 7th June, 2013 at 4:54pm