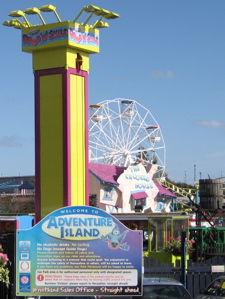 My wife Anne and I had a well-earned break recently in Southend, my home town. It was only a couple of days, but that`s about as much as we can ever manage.
We stayed in the guest room of the excellent sheltered accommodation at Eastwood (Essex) where my mother lives.
We travelled down, via London, on the Tuesday, and in the evening were able to go and visit my daughter Theresa and her partner Daniel and children Jack and Alice.
On the Wednesday we had a day out. We caught the bus to Rayleigh in the morning, managing to get a coffee and excellent cob at Bakers Oven in the High Street.
Then we went on to Chelmsford.
That was an eye opener. There is a sparkling new Bus Station at Chelmsford, which looks far better than the dismal, grotty, smelly old facilities that bus users had to put up with for years.
It`s a shame that the opportunity to create a proper Public Transport Interchange with the adjacent Chelmsford Station was not taken up, but I suppose you can`t have everything.
Having spent some time on buses, we both needed to use the toilet, but this was not as easy as it seems. We were astonished to find that, in this newly designed and built Bus Station, serving the busy county town of Essex, there is one toilet cubicle to cover both sexes. It is hidden away in the little waiting room.
And I`m sorry to say that little thought has been given to the provision of information. If you happen to know which bus goes to your destination, it is reasonably easy to find it. If you don`t know, and it is not the final destination, it is not easy at all.
This is in the city where, a few years ago, when new bus stops were created nearer the City Centre, the bus shelters looked nice. But instead of giving details of which buses used which stop, the shelters carried the words "Where we are and somewhere else".
The woman in the Enquiry Office at the Bus Station clearly didn`t think that any of this really mattered.
Anyway, we went on to Braintree (having remembered to look for details of buses to Halstead), where we visited the fascinating Warners textile exhibition. Anne had wanted to see this since it opened.
We treated ourselves to a walk down the sublime Bradford Street at Bocking, and before leaving Braintree had a coffee at Eaton`s tea shop. Very nice.
When we got back to Eastwood, my Mum very kindly treated us to a lovely fish and chips meal in Rayleigh.
On the Thursday morning, we took a bus out to the picturesque village of Canewdon (famed in the annals of Essex witchcraft), and then into Southend, where we had a ride on the train on he world famous Southend Pier.
And then it was time to come home, via Rayleigh and London.
Leicester is a good city, but sometimes it is nice to be away for a little while.
We had a very nice time.
Posted by colin on Saturday 16th August, 2008 at 9:47am