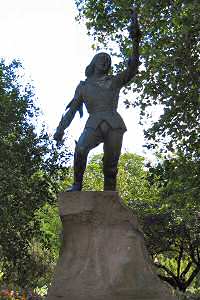 I gave a talk recently to former staff members of Leicestershire County Council, at Holy Trinity Church in Leicester.
The talk was "Leicestershire Legends and Traditions", in which I highlight some of the extraordinarily rich vein of folklore in the county.
I spoke about some of the odd local traditions, including the unique Bottle Kicking and Hare Pie Scramble at Hallaton, as well as the Damask Rose ceremony and the Whipping Toms.
Then I went on to tales involving King Lear, John of Gaunt, Richard III and the terrifying Black Annis.
The audience seemed to enjoy it as much as I did!
I will be very happy to give this talk, or any other, to your own group. Just get in touch.
Posted by colin on Saturday 28th May, 2011 at 10:19am