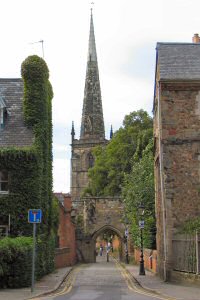 I gave my fascinating "Leicestershire Legends and Traditions" talk again recently.
This time it was at a crowded Great Glen Village Hall, to the village`s U3A.
This talk looks at some of the county`s past and present traditions, the most famous of which perhaps is the Bottle Kicking and Hare Pie Scramble at Hallaton, but also such former events as the Mock Hare Hunt and the Whipping Toms in Leicester.
I also include stories involving King Lear, John of Gaunt, Richard III and the terrifying Black Annis.
If you would like me to deliver this talk (or any other, for that matter) to your own group, feel free to get in touch.
Posted by colin on Wednesday 28th March, 2012 at 10:17am