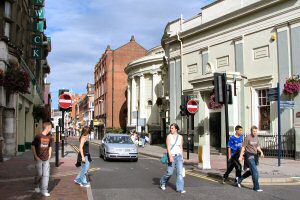 I went to an illustrated talk recently entitled "Leicestershire Heritage Through Film".
The talk was at the Central Lending Library in Leicester, and was given by Sue Porter of Phoenix Arts.
Sue showed a number of short pieces of early cine film, which were interesting because of the social conditions they portrayed. They were actually drawn from across the Midlands, not just from Leicestershire.
One of the pieces was from the 1930s and from Chesterfield, and showed men apparently aimlessly walking about the Market Place. Closer look, though, showed that they were placing bets, which at the time was illegal apart from at racecourses. Presumably it was shot as police surveillance.
The photograph used in the publicity was a bit of a puzzle. I kept studying it, and was convinced that it was not in Leicestershire. The closest I could get was Stratford-upon-Avon, although I was not very sure about that but nevertheless felt that I had seen the scene.
It turned out to be Much Wenlock.
Posted by colin on Wednesday 3rd December, 2008 at 4:42pm