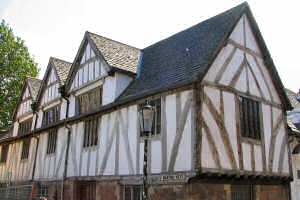 I gave an after dinner talk in Leicester recently.
It was for the Britain-Australia Society, and was held at Devonshire Place.
The talk I had been asked to give was one of my own favourites "Leicester`s Place in English History", in which I seek to show that Leicester and the surrounding area have been involved in all the major periods and events over the last two thousand years.
The city`s amazing city involves the Jewry Wall; the Five Boroughs; Simon de Montfort; John of Gaunt; Richard III; Lady Jane Grey; the Civil War; and Thomas Cook. Among others!
And as always, the dinner was super.
Posted by colin on Thursday 7th May, 2015 at 9:50am