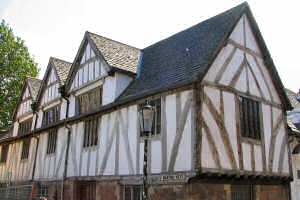 One of England`s leading garden centres was the venue for a talk which I gave recently entitled "Leicester`s Place in English History".
The talk was at Dobbies Garden World at Mancetter.
During this talk, I seek to show that the ancient city of Leicester has been involved in all the most significant periods and events in our country`s history for the last two thousand years.
An important Roman town on the Fosse Way, Leicester was one of the Five Boroughs of the Danelaw. After the Norman Conquest, Earls of Leicester, such as John of Gaunt and Simon de Montfort, rose to among the most powerful men in the land.
Richard III spent his last night in a bed in Leicester, before being killed in battle outside nearby Market Bosworth. He was brought back to Leicester for burial, and there is a very good chance that his remains have now been found.
Another to die and be buried in Leicester was Cardinal Wolsey, while the tragic Lady Jane Grey, Queen of England for just nine days, came from Bradgate Park, just outside the city.
Thomas Cook`s very first trip, heralding the birth of modern tourism, was from Leicester to Loughborough in 1841.
I will be delighted to give this talk for your own group. Do get in touch.
Posted by colin on Monday 28th January, 2013 at 10:19am