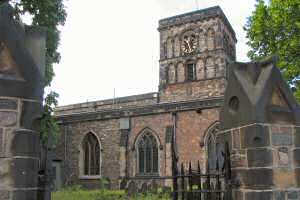 I was able to show some visitors from Italy one of Leicester`s fine collection of mediaeval churches.
The party was from Milan in Italy, and they were in England to look at some cathedrals and churches.
They chose St. Nicholas Church in Leicester. This is one of no fewer than five mediaeval churches still remaining in Leicester`s Old Town, and is Leicester`s oldest church, dating partly from the Anglo-Saxon period.
In addition to showing architectural features of the church, and the adjacent Roman Jewry Wall, I gave an idea of the ecclesiastical changes at the Reformation and since, bearing in mind that Italy is a Catholic country and the Church of England would not be familiar to them.
I was delighted to be able to show off some of Leicester`s heritage to visitors from abroad.
Posted by colin on Tuesday 7th June, 2011 at 3:28pm