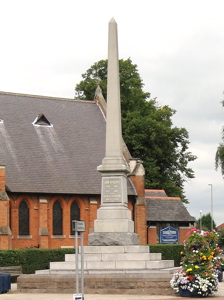 I led a private Guided Walk recently around the historic market town of Lutterworth in Leicestershire.
This was for the thriving Greater Wigston Historical Society, who are based at Wigston Magna.
I was able to show members some of the picturesque streets around this old town, while speaking about some of the Lutterworth characters of yesteryear, in particular John Wycliffe, the 14th century Rector who was the first man to translate the Bible into English, and Frank Whittle, developer of the jet engine.
They were also shown the British headquarters of the Gideon Society, who arrange for copies of the New Testament to be available in hotel bedrooms. It is appropriate that they should be in Lutterworth in view of the Wycliffe connection.
Any group who would like their own tour of Lutterworth are welcome to get in touch with me.
Posted by colin on Thursday 23rd July, 2009 at 8:01am