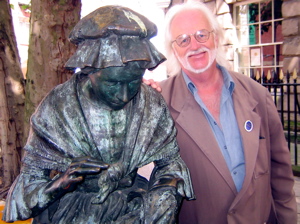 I have just passed a huge milestone in my career as a Blue Badge Guide. Last night, the number of people I have guided passed the twenty five thousand mark.
Along with another twenty - odd people from the Leicester area, I took the Blue Badge Guide course during the academic year 1993 - 94, and was thrilled to actually pass all the examinations and become qualified.
Those of us who passed were given our coveted badges by HRH the Duke of Gloucester at a ceremony at the Guildhall in Leicester in May 1994, almost fifteen years ago.
Since then, I have devised and led many Guided Walks, mostly in the Leicestershire and Rutland area, but also in Essex, where I come from, and also in London. I have also devised and led Coach Trips for Leicester people to destinations all over the country, including Guided Walks in many historic towns and cities.
I also give talks to groups, mostly on matters of local history, and have guided on open - top buses and even a canal boat.
The twenty five thousandth person was among participants on my "Waterside Loughborough" walk last night (Tuesday 28th April).
I consider myself very privileged to be able to see so much of this lovely country of ours, and to help others to appreciate it.
If you have been on any of my tours over the last fifteen years, or if you have sat and listened to me, I will be very pleased to hear from you.
Posted by colin on Wednesday 29th April, 2009 at 8:32am