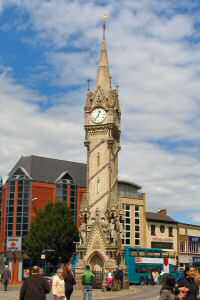 Her Majesty Queen Elizabeth II is this year celebrating sixty years on the throne. The city chosen to start her nationwide Diamond Jubilee tour was the historic and multi-ethnic, multi-faith community of Leicester, right in the centre of England.
The Queen, accompanied by the Duke of Edinburgh and the Duchess of Cambridge (the former Kate Middleton), visited De Montfort University and St. Martin`s House, attended a service at Leicester Cathedral and had a walkabout around the Clock Tower.
Personally, I was just one of the many thousands who turned out to see the Royal party.
A message received from Buckingham Palace thanked the city and its people for the wonderful welcome, which far exceeded their expectations.
Here in Leicester, we have set the scene for the Jubilee year.
Posted by colin on Sunday 15th April, 2012 at 10:27am