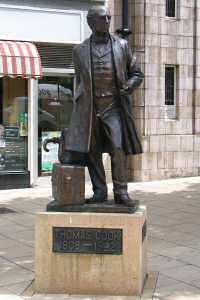 Not long ago I went to a talk given by my friend, the local historian Derek Seaton, on behalf of the Victorian Society.
It was held at the Adult Education Centre in Leicester, and was on the life and times of Thomas Cook, the world famous travel agent. Some years ago, Derek had a book published about this fine Victorian gentleman.
Thomas Cook spent much of his life in Leicester, but was not a native of the city, having been born at Melbourne, just over the border in Derbyshire.
It was while he was living at Market Harborough in 1841 that he had his brainwave. He had been asked to promote a temperance event that had been organised to take place at Loughborough, and hit on the idea of hiring a train to take people from Leicester to the event.
This was the very first organised excursion that the public could buy tickets for, and heralded the start of mass tourism. Without Cook and his trip from Leicester to Loughborough, there would have been no Blue Badge Guides, no Saga Holidays, no Butlins Holiday Camps etc.
Thomas Cook had a house built for himself in London Road. I point out his grave during my "Welford Road Cemetery" Guided Walk.
Derek`s talk was as fascinating as ever, and everybody at the meeting thoroughly enjoyed it.
Posted by colin on Tuesday 16th December, 2008 at 4:16pm