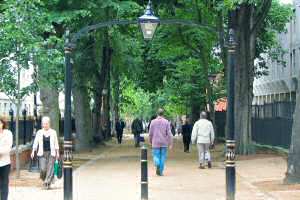 Members of the Community History Network, including myself, had the pleasure of an interesting talk recently.
The Network, organised by Leicester City Council, is open to anybody with an interest in any aspect of local history, and apart from the Christmas meeting, for which there is a small charge, it is all free.
Meetings take place every two months, and there is always a speaker. I have delivered the talk on a number of occasions, the most recent being "Dionysius, Hardulph and Egelwin: the Church Dedications of Leicestershire and Rutland".
The most recent meeting featured a talk by the always interesting Cynthia Brown, whose subject was "Life in Service". In days gone by, service in a big house was something for working class people to aspire to.
Until now, the meetings have been held at New Walk Centre, but from February the venue is changing, to the Lending Library in Bishop Street.
Posted by colin on Wednesday 9th January, 2008 at 9:28am