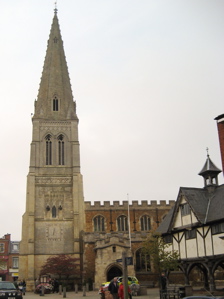 The picturesque old town of Market Harborough in Leicestershire was the scene recently of a ghost walk attended by a pack of cubs.
I organised the "Haunted Market Harborough" Guided Walk for the cubs from Foxton, the village famous for its staircase of locks.
I must say it's fun to lead groups like this around old towns with a bit of spooky atmosphere.
We started at the War Memorial and stayed close to the High Street, while exploring some of the lesser known passages.
And of course I regaled them with stories of ghosts and hauntings, including some of my own experiences.
We all enjoyed ourselves.
Posted by colin on Thursday 25th January, 2007 at 8:52am