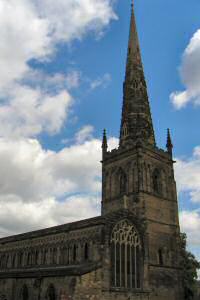 Did you know that Midsummer Eve has long been regarded as one of the most haunted nights of the year?
It ranks in this respect alongside the much better known Hallowe`en.
For several years now, in addition to my very popular Ghost Walks including "Haunted Leicester" and "The Haunted City", which normally take place in the Winter, I have run a special Haunted Walk on Midsummer Eve.
Entitled "A Midsummer Nights Haunt", it is taking place very soon now. It starts outside St. Mary de Castro Church in Leicester on Tuesday 23rd June at 10pm.
Tickets are £3.50 on the night, but you are strongly advised to pay in advance. This will cost you £2.50.
Happy haunting!
Posted by colin on Friday 12th June, 2009 at 7:51am