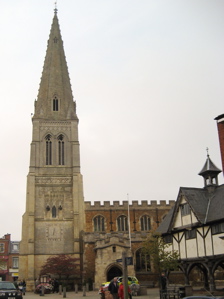 I recently gave a talk to the Royce Institute in Leicester, which was founded by Mary Royce, the first woman in the city to qualify as a doctor.
The talk this time was a particularly fascinating one, "Dionysius, Hardulph and Egelwin: the Church Dedications of Leicestershire and Rutland".
I look at every dedication of Anglican churches around the two counties, and give a brief insight into just who each saint may be.
Most people should have an idea of the identity of St. Mary, for example, or St. Peter. But there are some really obscure ones, including some which are very rare, or even unique.
St. Dionysius is the parish church of Market Harborough, St. Mary and St. Hardulph is the very historic church at Breedon-on-the-Hill, and St. Egelwin is at Scalford.
If you fancy me giving this talk to your own group, feel free to get in touch.
Posted by colin on Friday 11th January, 2013 at 4:05pm