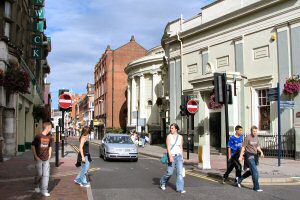 I went to a talk recently at the Lending Library in Belvoir Street in Leicester.
The talk was on "Leicestershire Murders", and was given by the librarian Angela Cutting. Angela runs the Community History Network and is also a qualified Blue Badge Guide.
I enjoyed the talk very much, and it certainly went down well with the assembled audience.
Angela spoke of a number of celebrated murders and murderers in the area, including James Cook, the last man to be gibbeted, the mediaeval vicar who killed a bellringer, and the Green Bicycle Murder.
Posted by colin on Monday 27th October, 2008 at 6:21pm