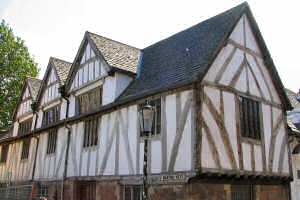 Leicester 41 Club were kind enough to ask me to give a talk to them recently. Having taken this group on a Guided Walk on a previous occasion, I was delighted to do so.
The talk that they asked for was "Leicestershire Legends and Traditions", which is certainly one of the most popular of all my repertoire.
The venue was the Regency Hotel in Stoneygate, one of the leafy suburbs of Leicester.
I gave the talk after dinner, which was up to the hotel restaurant's very high standard.
I spoke of a number of traditions, pointing out that two towns just outside the county (Ashbourne and Atherstone) have strange Shrove Tuesday football matches, but that at Hallaton there is a similar event which is even more odd - the Bottle Kicking and Hare Pie Scramble.
Leicester itself used to have a Shrove Tuesday tradition. This involved the carters known as the Whipping Toms.
I talked of the terrifying Black Annis, the Damask Rose ceremony, the Mock Hare Hunt and stories involving both John of Gaunt and Richard III.
Everybody agreed that they would now look at their city and county with a new degree of understanding.
Any group that would like me to deliver this talk, or any other for that matter, is invited to get in touch.
Posted by colin on Saturday 15th March, 2008 at 10:07am