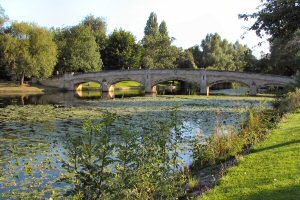 An important anniversary in Leicester during the Summer was spoiled by the awful weather.
Leicester City Council organised an event in Abbey Park to celebrate 125 years since it came into existence.
In 1882, the Prince of Wales (later Edward VII) and his wife, Princess Alexandra, opened this lovely park, one of the finest I know, on the site of the powerful Leicester Abbey beside the River Soar.
My wife Anne and I went to the park for the event, but most of it was a washout, although BBC Radio Leicester gamely kept going with entertainment.
But of course Leicester got off very lightly compared with the serious flooding that afflicted several English towns.
Posted by colin on Saturday 6th October, 2007 at 8:45am