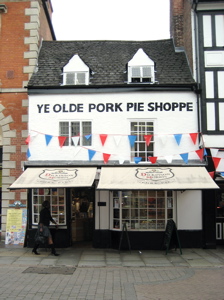 I led a private Coach Tour around Leicestershire recently, for a group from Staffordshire.
Entitled "A Taste of Leicestershire", it was a tour which I lead in association with Greatdays. The group was the Women`s Institute from Derrington near Stafford.
I met the party at Wanlip Services, and took them through the historic city of Leicester and into the beautiful High Leicestershire area, where we made a stop at Hallaton.
Continuing the tour, we went next to Scalford Hall, where lunch was served.
A very short journey followed, taking us into Melton Mowbray. I took the group to Dickinson and Morris, where everybody was given a pork pie, after which I gave a short explanation of the links between the town`s two famous delicacies, pork pies and Stilton cheese.
Lastly, I took the group into the tiny county of Rutland, allowing a little free time in the delightful county town, Oakham.
It was a very successful day.
Posted by colin on Wednesday 25th September, 2013 at 10:10am