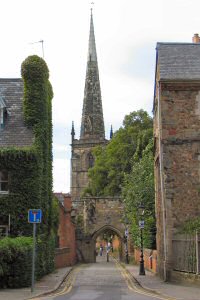 The ladies of Lutterworth Townswomens Guild had a haunting experience not long ago.
They asked me to take them on a ghostly stroll around the eerie streets of Leicester`s half-forgotten Old Town, and they all bravely turned up on the night.
I took them on their own version of my very popular "Haunted Leicester" walk, which has been chilling bones for a good few years now.
They heard about disembodied footseps in a quiet street, the dark robed figure in an ancient churchyard and the archway haunted by the terrifying Black Annis.
If your group would like me to take them on a similar walk, do feel free to get in touch.
Posted by colin on Wednesday 1st October, 2008 at 9:55am