Snibston Discovery Park (Snibston)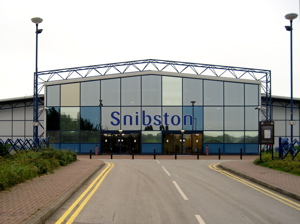 Snibston Discovery Park is an entertaining interactive museum, largely on scientific and industrial subjects, at Snibston, near Coalville in Leicestershire.
This area, part of the West Leicestershire coalfield, is now included in the developing National Forest, which is mostly in Leicestershire but partly in Derbyshire and Staffordshire.
The Discovery Park was created in the early 1990s on the site of one of the two Snibston mines. These were established by the great engineer George Stephenson, taking advantage of the seam of coal discovered by his son Robert Stephenson, when he was surveying for his Leicester to Swannington railway line.
There are many exhibits showing how scientific principles work. Outside the main entrance is Robert Stephenson's lifting bridge, and in school holidays there are train rides through the grounds.
A large gallery contains exhibits relating to clothing and fashion. It is the largest such collection outside London.
Leicestershire has always been at the heart of the clothing trades, especially hosiery and footwear. All this is featured in the gallery, along with Symington's corsetry from Market Harborough.