St. Marys Church (Oxford)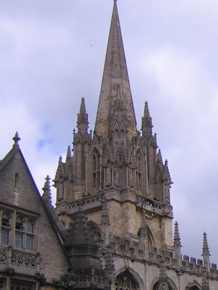 St. Mary's is the town church serving the ancient settlement of Oxford, on the River Thames.
It stands on The High, with its shops and commercial premises, but on the other side is a fantastic collection of buildings connected with Oxford University.
There is an entrance on each side. In the case of the South entrance, from The High, the porch itself is historic, having been constructed in 1623. There are bullet holes in the statue of Mary, made by Cromwell's soldiers as they rampaged through the town, which had been Charles I's capital.
The tower is quite splendid, and is in the Decorated style. It is surmounted by a spire, with crockets, pinnacles, battlements and the like.
St. Mary's held the first University Library.
In 1554 and 1555, the trials of Hugh Latimer (born at Thurcaston near Leicester), Nicholas Ridley and Thomas Cranmer were held in the church. They were subsequently burnt at the stake, and are commemorated in the Martyrs Memorial.
John Wesley preached a famous sermon here in1744, attacking the laziness that he found among academics.
Keble and Newman began the Anglo-Catholic crusade here in 1833, resulting in the Tractarian Movement.
In the West Gallery is a boss depicting Mahatma Gandhi sitting crosslegged, and the church also contains an extraordinary work of art based on the head of TV presenter Carol Vorderman.