Martyrs Memorial (Oxford)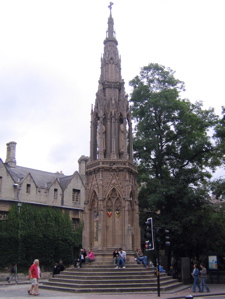 The Martyrs' Memorial stands in the street in St. Giles, in the City Centre of Oxford.
It commemorates the three leading churchmen who were burned at the stake nearby, for their Protestant beliefs, during the reign of Queen Mary in 1555.
Hugh Latimer, born at Thurcaston near Leicester, was an exceptional preacher who rose to be Bishop of Worcester.
Nicholas Ridley, from Northumberland, became Bishop of Rochester and later Bishop of London, and was outspoken in his support for Lady Jane Grey.
Thomas Cranmer was from Nottinghamshire. He excelled in diplomacy and theology, and became Archbishop of Canterbury.
Latimer and Ridley died on the same bonfire. When Ridley, understandably, was showing signs of nervousness, Latimer told him "Be of good comfort, Master Ridley, and play the man; we shall this day light such a candle, by God's grace, in England as I trust shall never be put out".
The Martyrs' Memorial was designed by Gilbert Scott, in a style reminiscent of the Eleanor Crosses.