Wolsey Tower (Leicester)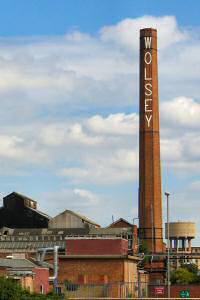 The Wolsey Tower is a tall chimney in the city of Leicester.
It is situated on the narrow strip of land between the River Soar and the canal, to the North of Abbey Park. It is actually the Northern tip of the island known as Frog Island.
The tower was part of the hosiery works associated with the well-known Wolsey company.
The company took its name from Cardinal Wolsey, Henry VIII's Chancellor. In 1530, having failed to convince the Pope to annul Henry's marriage to Catherine of Aragon, he was summoned to London and died at the great Leicester Abbey, the present site of Abbey Park, and was buried there.