Silver Street (Leicester)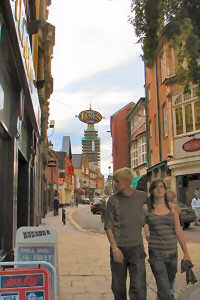 Silver Street is one of the ancient streets in the old City of Leicester.
It runs parallel with the High Street, eventually changing its name to Guildhall Lane, where Leicester Cathedral and the Guildhall can be found.
The name refers to the fact that Leicester's silversmiths had their premises here. The street was previously known as Sheep Street, denoting the former presence of the sheep market.
Today, Silver Street is one of the streets known collectively as Leicester Lanes, which offer a wide range of independent specialist shops.