Seventh Day Adventist Church (Leicester)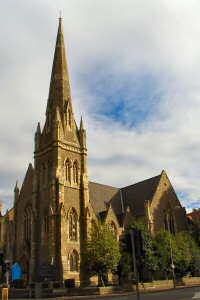 The Seventh Day Adventist Church in Leicester is a 19th century building with a lovely spire, complementing the nearby St. Stephens United Reform Church on New Walk.
The church stands on the corner of London Road and University Road, overlooking the City Centre.
It was originally the Victoria Road Baptist Church, the Baptists being very strong in Leicester at the time. Victoria Road later had its name changed to University Road.