Fenwick Building (Leicester)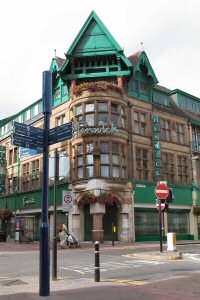 The Fenwick store in Leicester is in a most interesting confection of a building on the corner of Belvoir Street and Market Street.
It was originally built as Joseph Johnson's department store, and the shop girls had rooms in the top storey.
Today Fenwicks is part of a national chain of department stores. Among other departments, it contains a booking office for Saga Holidays.
Most of the store was built in 1880, but the most notable feature, the corner where there is a heavy wooden overhang, dates from 1884.
The architect was Isaac Barradale, a notable architect of Victorian Leicester. It was Barradale to whom Ernest Gimson, nationally-known architect and furniture maker, was articled.
The building on the other corner of Belvoir Street and Market Street was also designed by Barradale. It was built as a hotel.
Isaac Barradale is buried at Welford Road Cemetery.
Where is Fenwick Building?
View a map showing the location of Fenwick Building.
Press the 'Back' button on your web browser to return here.