Belgrave Ancient and Modern (A Guided Walk in Leicester)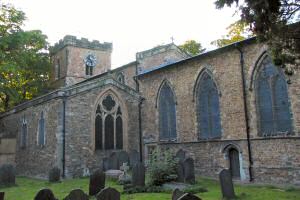 "Belgrave Ancient and Modern" is a fascinating Guided Walk around the Belgrave area of Leicester, devised and led by the well known Blue Badge Guide Colin Crosby, of Colin Crosby Heritage Tours.
These gentle strolls are a first class way of getting to know some Local History.
Today, Belgrave is best known for its large Asian population. This has led to the proliferation of Indian sweet shops, beautiful sari shops and award winning Indian restaurants. Vast numbers of tourists arrive every Autumn to see the amazing Diwali lights, which in a fine gesture of intercultural harmony are later transformed into Christmas lights.
Perhaps more controversially, the area now features a statue of Mahatma Gandhi, erected in 2009.
But Belgrave began life as a country village, and there are still clues to these origins around St. Peters Church, Belgrave and Belgrave Hall.
This hugely fascinating walk covers both aspects of Belgrave, and will be of great interest to those who only know one or the other.
Dates, costs and where to meet
A place on 'Belgrave Ancient and Modern' costs £4.00 per person, or £3.00 if paying in advance. The guided walk begins at Belgrave Hall, and is running on:
I'm sorry, but there are no plans to run this event at present.
If you would like to book a place on one of these dates, please telephone Colin on (0116) 2611576 or email him at colin@crosbyheritage.co.uk.