Bell Tower (Evesham)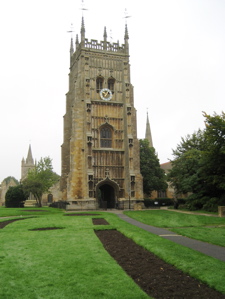 The Bell Tower is one of three soaring visual elements close together in the historic riverside town of Evesham in Worcestershire.
It is the Bell Tower of the very rich Evesham Abbey, situated here beside the River Avon and founded about 700 by Egwin, Bishop of Worcester. Like so many others, it lasted until the 16th century Dissolution of the Monasteries under Henry VIII.
The tower itself dates from 1513, and was built by Abbot Lichfield. It was always detached.
There is a peal of thirteen bells, and a carillon performs every three hours during daylight hours.
The grounds of the Abbey are now a lovely public park, in which is a memorial to Simon de Montfort, the Earl of Leicester who was effectively King of England for a few months while holding Henry III captive at Kenilworth Castle. He was defeated and killed at the Battle of Evesham.
So popular was he that his burial place became a destination for pilgrimage, as to were the relics of St. Wistan, murdered at Wistow in Leicestershire. His relics had been brought to Evesham from Repton.
The Abbey precinct also contains two mediaeval churches, St. Lawrence's Church and All Saints Church.