Chelmsford Cathedral (Chelmsford)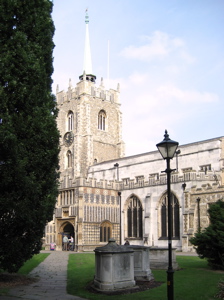 The Cathedral of SS Mary, Peter and Cedd is the cathedral of Chelmsford in Essex.
The see was founded in 1913, Essex having previously come under th juridiction of Rochester, and later St. Albans.
There are traces of a Norman church, but much of the present building, including the magnificent tower and the porch, both of flint, is Perpendicular.
There is a timber spire, which was added in 1749.
The nave collapsed in 1800, and John Johnson, the Leicester-born architect who spent most of his carrer as County Surveyor for Essex, carried out considerable reconstruction work.
It was Johnson who designed the lovely ceiling.
On a corner of the cathedral, visible from the City Centre entrance to the churchyard, is a jolly modern statue of St. Peter. As usual, he is holding a key, but this time it is a Yale key. He is facing towards St. Peter-ad-Murum Church, far away at Bradwell-juxta-Mare.
St. Cedd was added to the cathedral dedication in 1954. Cedd, the brother of St. Chad, was sent from Lindisfarne to evangelise the East Saxons, and was their first Bishop. It was Cedd who built St. Peter-ad-Murum in about 650, which astonishingly still survives.
Thomas Hooker, born in Markfield in Leicestershire, was curate at Chelmsford. He is widely credited as being the Father of American Democracy.