St. Marys Church (Barwell)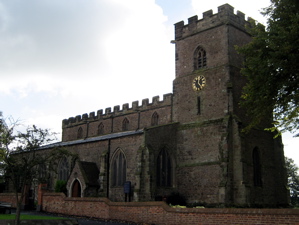 St. Marys is the parish church of Barwell, a Leicestershire village which is close to Hinckley.
The church dates back to the late 13th century, and has a Western tower with battlements on top.
The Perpendicular clerestory is also embattled. At the West end of the North aisle is an unusual arrangement of raked seats for children. This dates from 1854, when Henry Goddard carried out a restoration.
There is a brass plate to John Torksay, who died in 1614. He is preaching in a pulpit, while his family kneel in front of him, presumably being the congragation.
Outside the church is the village War Memorial.