Vale of Evesham Tour (A Coach Trip in Worcestershire)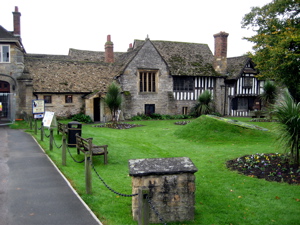 The "Vale of Evesham Tour" is one of the very popular Coach Trips devised and led by Blue Badge Guide Colin Crosby, of Colin Crosby Heritage Tours.
These trips are an excellent way to soak up some Local History.
This is one of the trips that Colin runs on a Sunday afternoon, which leaves people with the option of doing something else on a Sunday morning, most obviously going to church, and still being able to go on the trip.
The coach departs from St. Margarets Bus Station in Leicester at 1pm, and is due to get back about 8pm.
Colin gives his customary commentary along the way, bringing to life the fscinating sights and places encountered on the route.
The tour takes in some of the lovely fruit growing countryside around the Worcestershire area, close to the historic old town of Evesham.
There is a stop for a couple of hours or so at Broadway, one of the most picturesque villages in England, and on the edge of the Cotswolds.
Dates, costs and where to meet
A place on 'Vale of Evesham Tour' costs £24.00 per person, or £24.00 if paying in advance. The coach trip begins at St. Margarets Bus Station, and is running on:
I'm sorry, but there are no plans to run this event at present.
If you would like to book a place on one of these dates, please telephone Colin on (0116) 2611576 or email him at colin@crosbyheritage.co.uk.