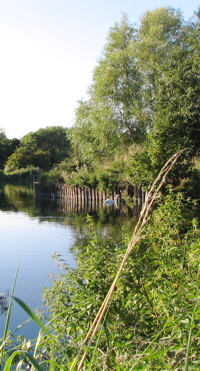 I led a Guided Walk beside a canal recently for members of the Fleckney Young Wives.
It was a version of my popular "Waterside Market Harborough" walk, which I lead every year as part of the Waterside Walks season of public Walking Tours.
Starting at the Angel Hotel in Market Harborough High Street, the walk goes along the canal as far as Great Bowden, and then back past the John Smyth School to the High Street again.
The canal is leafy and quiet along this stretch.
Any groups who would like me to lead one of the Waterside Walks can feel free to get in touch.
Posted by colin on Tuesday 19th August, 2008 at 5:25pm