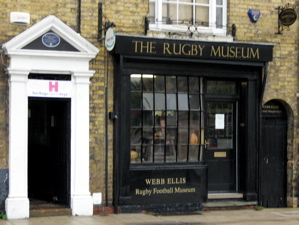 I spent a while in the early 1980s working in Rugby.
After leaving the Halstead Empire Theatre, I looked around for something interesting to do, and moved to Rugby to manage Rugby Enterprise Trust, a Manpower Services Commission-funded scheme.
My twelve staff and I spent our time trying to get Rugby's unemployed back to work, in a variety of ways.
During this period, I visited several other places on fact-finding missions. I went to Birmingham, Colchester, Coventry, Daventry, Leicester and Northampton.
But, socially worthwhile though this appointment was, and nice town though Rugby is, it was not really the sort of thing that I am best at, and I began to miss the entertainment business.
Following talks with Thorn-EMI, who ran the celebrated ABC circuit of cinemas, I was invited to take over the management of the Havant Empire Cinema at Havant near Portsmouth.
So I left Rugby and went down to Hampshire to resume my cinema management career.
If anybody reading this has any connections with Rugby (Born? Lived? Worked? Ancestors? Relatives?), I will be very pleased to hear from them.
Posted by colin on Sunday 2nd December, 2007 at 10:09am