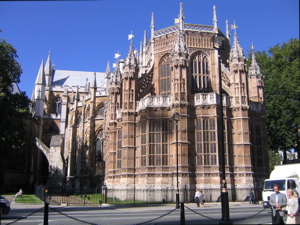 Although not actually a king, Oliver Cromwell was the ruler of England for several years in the mid 17th century.
He was born in Huntingdon in 1599. Although the family name was actually Williams, Oliver`s great grandfather had changed his name to Cromwell in deference to his famous cousin Thomas Cromwell.
He married Elizabeth Bourchier, whom he had met at Rochford, in 1620, and later lived at St. Ives (Cambridgeshire) and Ely.
After spending a year at Cambridge, he entered Parliament in 1628, representing Huntingdon. After a profound religious conversion in the early 1630s, he returned to Parliament in 1640, this time representing Cambridge.
Cromwell`s rise to power started in earnest in 1642, when the fighting started in the Civil War. Having seized the county magazine at Cambridge and prevented the college plate from being sent to Charles I at York, he fought as a cavalry office at Edgehill and was promoted to colonel.
He was victorious at Marston Moor in 1644 and given the task of training the New Model Army, which won the crucial victory at Naseby in 1645. This brought the Civil War to an end.
Cromwell showed himself to be a man of intellect, taking part in the army debates at Putney, at which he argued against the extreme democrats and the Levellers. But he was called back to military action in 1648 when the Scottish invasion force marched South in an attempt to rescue Charles. He gained a decisive victory over this army at Preston.
Cromwell was one of the men who signed the death warrant of Charles, who was duly executed in 1649.
He subdued Drogheda and Wexford in Ireland in 1650 with perhaps unnecessary ferocity, and later that year destroyed Leslie`s army, fighting for Prince Charles, at Dunbar.
When Charles led an army towards Wales, Cromwell defeated him at Worcester, after which the prince fled to France via the Royal Oak at Boscobel.
Through the early years of the Interregnum, although Prince Charles claimed to be king, it was the army which wielded political power, with the title the Commonwealth, but Cromwell was by far the leading man, nobody being able to match his prowess on the battlefield or his experience as a Parliamentarian.
Although he wished to restore a civilian government, he felt it necessary to continue with a strong army while there were still Royalist plots. To add to that, there was war with the Dutch from 1652, followed by conflict with Spain.
Cromwell dissolved the Rump Parliament in 1653 ("in the name of God, go"), replacing it with the Barebones Parliament, 140 nominated men of godliness and righteousness, who started to try to bring change on a much greater level than Cromwell felt necessary and desirable. When his displeasure became known, most of the members resigned.
In 1653, Cromwell was made Lord Protector, recognising his actual authority. He was to be addressed as "Your Highness", had a magnificent installation ceremony at Westminster Hall and became in effect a dictator.
He still ruled with a Parliament, but they made themselves difficult, particularly by voting to reduce the Army and bring it under their control, and Cromwell dismissed them in 1654, replacing them with the direct rule of the Major-Generals, each in charge of one of twelve regions. After the rising led by Penruddock in Wiltshire in 1655, he briefly reimposed military rule, but called another Parliament in 1656.
After an assassination plot, he was begged to take the title "King", but refused. He called another new Parliament in January 1658, and believed that this was the best that could possibly be attained.
Cromwell`s health, however, was beginning to give out, and this was not helped by the death of his daughter Bettie in August 1658. Shortly afterwards, George Fox, the founder of the Society of Friends, saw him at Hampton Court and commented that "he looked like a dead man".
He died during a great storm on 3rd September 1658, the anniversary of his victories at Dunbar and Worcester, and was succeeded as Lord Protector by his son Richard Cromwell.
Cromwell deplored the persecution of Catholics, and allowed the Jews back into England, from which Edward I had banished them four hundred years before.
He was buried at Westminster Abbey. In 1660, after the Restoration of Charles II, the new Parliament ordered that his body, along with two colleagues, should be exhumed and dragged to Tyburn. It was hanged and then hacked to pieces. His head was stuck on a pole above Westminster Hall, staying there for 25 years before being blown down in a gale.
One might feel that this was taking vengeance to wildly unnecessary extremes.
Posted by colin on Wednesday 3rd November, 2010 at 10:32am