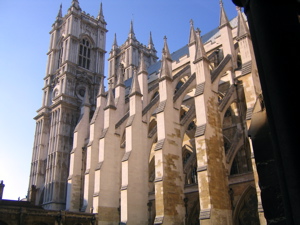 Henry V was King of England for not much more than nine years in the early 15th century.
He was the second but eldest surviving son of Henry IV and Mary de Bohun, and was born in 1387 at Monmouth Castle, being often referred to as Henry of Monmouth.
When his father seized the throne from Richard II, and the young Henry became Prince of Wales, he was only twelve years old, but soon started helping Henry IV in his campaigns against the Welsh insurgents under Owain Glyn Dwr, and later against Henry "Hotspur" Percy and Edmund Mortimer. At the Battle of Shrewsbury in 1403, he was badly injured in the face, but refused to leave the field until victory was secured.
There is no reason to suppose that the riotous teenage years of young Prince Hal were any more than a dramatic invention of William Shakespeare, who changed a lot of history in various plays to make a better story.
Towards the end of Henry IV`s life, when he was increasingly subject to a wasting disease that was probably leprosy, there were calls for the charismatic young prince to take over as king, and rumours that he was about to do so by force. But he seems to have had no such intention, and simply became king when his father died in 1413, being crowned at Westminster Abbey.
One of the new king`s first decisions, in a spirit of letting bygones be bygones, was to grant a state funeral to Richard II, the man whom his father had supplanted. He also remained on good terms with Joan of Navarre, his stepmother, even though she had been accused of causing his father`s death by witchcraft.
In the early part of his reign, Henry had to survive plots on his life, one orchestrated by his former friend Sir John Oldcastle, and another involving Lord Scrope and the Earl of Cambridge, both of whom were executed at Southampton.
Henry focussed his intentions on regaining the lands in France which he saw as his rightful possessions. To this end, having failed to win any concessions from the French in negotiations, he invaded in 1415, besieging Harfleur and then winning the extraordinary Battle of Agincourt.
So much had his men fallen victim to dysentery, they removed their lower garments while marching, so that nature could take its course. At the battle itself, the English were outnumbered three to one, but such was the brilliance of the English and Welsh archers, and the foolhardiness of the French commanders, that the battle ended not only in a famous English victory, but with the French losing six thousand men compared to the English four hundred.
Henry returned in 1417, conducting a campaign in Normandy, which fell to him in 1419. With many on the Continent now supporting his claim to the French throne, he married Catherine de Valois, daughter of Charles VI of France, at Troyes Cathedral in 1421, bringing her back to England in a triumphant tour.
In 1422, he returned to fighting in France, but died from dysentery at Bois-de-Vincennes, aged only 34. A short while later, the King of France died, and Henry would almost certainly have been accepted as his successor. He was buried at Westminster Abbey.
Henry was succeeded by his infant son Henry VI, a decent man who was one of the least successful of English kings.
He was universally admired for his braveness in battle, and for his air of confident but fair authority. In an age when many of the nobility still spoke French, he personally used English and encouraged others to do so. However, he had a streak of cruelty towards victims of war, and he seems to have had no sense of humour. However, he might well have become a great king had he not died so young.
Henry and Catherine de Valois had just the one child, Henry VI. After her husband`s death, she formed a relationship with Owain Tudor, and may have married him around 1427. They had children, and one of their descendants became Henry VII.
Catherine died in childbirth at the Abbey of St. Saviour in Bermondsey in 1437, and was buried at Westminster Abbey. Owain Tudor was executed in 1461 at Hereford, and buried there at the Grey Friars.
Posted by colin on Wednesday 18th March, 2009 at 11:55am