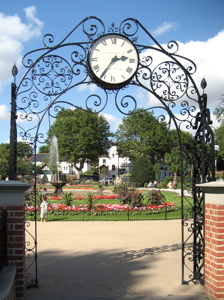 Although I was born in Rochford (four miles away) and brought up in Westcliff (a suburb), I always regarded Southend as my home town, and in truth still do.
As a teenager I visited all the cinemas in the town centre, namely the Odeon, Gaumont and Ritz (all run by the Rank Organisation), Rivoli (later ABC), Strand (later Essoldo), Garons and Civic (at other times known as New Vic and Continental), in addition to the Regal Theatre, the Pier Pavilion and the Gliderdrome for wrestling. Every one of these is no more.
Much earlier in life I had been something of a regular at the Saturday morning club at the Gaumont.
I also went to quite a lot of live shows at the Odeon, and saw many well known performers including Count Basie, Terry Dene, the Everly Brothers, Georgie Fame, Lance Fortune, Billy Fury, Joan Regan, the Chas McDevitt Skiffle Group, Tommy Steele, the Treniers, Frankie Vaughan and Marty Wilde.
I went to the occasional dance at the Palace Hotel, on one occasion seeing Johnny Kidd and the Pirates, while another local group who often performed at local halls were the Paramounts (later to become Procol Harum).
When I left school, I worked for a short while (my first paid job, albeit part-time), at a pub known as the Royal Stores. I attended evening classes at the Municipal College, on English Literature, shorthand and typing.
However, I started proper work in 1960 as a clerk in the City of London, hating every minute, before joining the Rank Organisation as a Trainee Manager in 1963.
After a while, I was appointed Assistant Manager at the Ritz Cinema, and later (having managed a cinema at Becontree Heath) became Deputy General Manager of Rank Cinemas Southend (Odeon, Ritz and a kiosk selling to passers by on the High Street).
It was at the Odeon that I became known as an expert on crowd control on live shows, and worked with the Beatles (my first one, something of a baptism of fire) as well as Chuck Berry, John Gilpin, the Kinks, London`s Festival Ballet, Susan Maughan, the Moody Blues, Des O`Connor, Cliff Richard, the Rolling Stones, the Shadows, Dusty Springfield and the Yardbirds.
Towards the end of the sixties, I moved for a couple of years with my first wife Judy and daughter Theresa to a flat in Warrior Square. It was there that my second daughter Angela was born.
In the early seventies, when managing the Classic Cinemas at Westcliff, I played a very active part in Southend`s life.
I took part in the annual Southend Carnival procession (and midweek illuminated procession), with the Classic Queen (I invented the concept of a cinema having its own Carnival Queen).
I gave my first talks, at the Alexandra Hotel (known informally as the Top Alex) and the Cliff Town Congregational Church.
I was a committee member of the South End Conservation Area Society (now known as the Southend Society). We invited Sir John Betjeman, very much a lover of Southend, to be patron, and he accepted - he was very pleased to be asked.
I was also a member of the Southend Police Crime Prevention Panel, and its Youth sub-committee.
I attended lots of committee meetings.
I wrote a weekly column for a local newspaper, being the first cinema manager to do so.
I took part in my first sponsored walk, 16 miles from Basildon Hospital to Southend Pier, for Lady McAdden`s BUST appeal, to fight breast cancer. About 300 took part, most of whom were half my age (I would have been about 32), and I came in twelfth. Among those who beat me were Brian Taylor, who had just retired as captain of Essex County Cricket Club, and Graham Paddon, who was still playing football for Norwich City.
I attended a service at the Catholic church.
Coming more up to date, as a Blue Badge Guide I have led Guided Walks in Southend ("Old Southend" and "Southend High Street"), and have twice brought a Coach Trip to the town from Leicester, where I now live. These trips have included Guided Walks.
Southend was one of the destinations on one of the Whistle Stop Tours of Essex organised by the indefatigable Carol Jolly of Essex Tourism Association. We visited Adventure Island and the Sea Life Adventure, and had a fish and chips lunch at the Three Shells restaurant.
Posted by colin on Tuesday 13th April, 2010 at 3:48pm