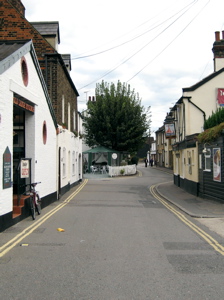 Leigh, for centuries a fishing and shipbuilding village on the estuary of the River Thames, is now a suburb of Southend, my home town.
My earliest memory of Leigh is when my Dad took me there, from our home at Westcliff, to see the sandbags and other flood defences, in the wake of the disastrous East Coast floods of 1953, when many people died on nearby Canvey Island.
When I was growing up, there were two cinemas in Leigh, the Corona and the Coliseum. I visited both of them, but they both closed many years ago.
It was at a church in Leigh that I attended my Granny`s funeral.
In the 1970s, when I was General Manager of the Classic Twin Cinemas at Westcliff, I went to Leigh one year for the annual Regatta.
I am best known now as a Blue Badge Guide. One of the popular Guided Walks that I lead is "Old Leigh", around the salty Old Town.
Posted by colin on Friday 23rd July, 2010 at 8:27am