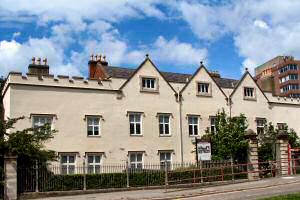 The Community History Network meeting for December took a different form from usual this year.
Generally, these meetings, held every two months, take place at the Reference Library in Bishop Street, Leicester, but this time a visit was arranged to the Newarke Houses Museum.
This museum, housed in two adjacent houses dating from the 16th and 18th centuries, was closed for some time while improvements were made, but reopened last year.
We were shown around the museum by the City Council`s Nick Ladlow.
There is a considerable amount of space devoted to the Tigers regiment, including actual medals and an atmospheric reconstruction of a First World War trench, complete with graffiti.
Also in the museum are exhibits relating to Leicester`s diverse and considerable immigrant communities.
It`s a fine museum, very much improved, and we were all very grateful to Nich for taking the time to show us proudly around.
Posted by colin on Sunday 14th December, 2008 at 10:37am