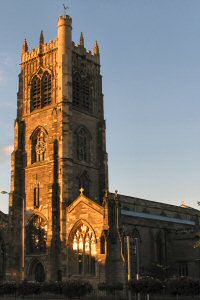 A statue of St. Margaret of Antioch has been installed outside St. Margarets Church in Leicester.
The seven foot high statue was formerly situated above the entrance of the nearby Corah factory, until it closed in the 1980s.
It was sculpted by Leicestershire artist Pamela Bereford from Portland limestone.
Corah were the manufacturers of the St. Margaret ladies undergarments sold by Marks and Spencer as their female equivalent of St. Michael.
The St. Margaret name came from the fact that the firm's founder was a worshipper at St. Margaret's Church, one of five mediaeval churches surviving in Leicester's Old Town.
Posted by colin on Monday 9th April, 2007 at 10:34am